09.08.2019

GO-N's Eric Garnet Talks Love at First Sight with IP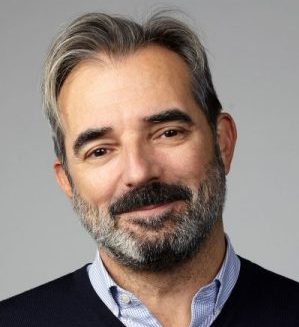 GO-N Productions Co-founder Eric Garnet talks about the company's production slate.
At Annecy this summer, GO-N Productions celebrated its 15 years in the industry. "It seems like just yesterday," says Garnet, recalling the early days of the company, set up with Anne de Galard, business partner and co-founder. "When we started, we were only doing development in-house, and the financing of the projects, and then we integrated the preproduction phase and post-production. We were also doing some animation retakes with a small team."
With Simon, the preschool comedy centered on a little white bunny, GO-N produced its first series fully in-house. "Now we have a capacity of between 90 and 100 work stations, located right in the middle of Paris," Garnet says.
 The location, he notes, has helped attract a new breed of young animators who are looking for a creative studio to call home in the bustling French capital.
"We built it up step by step, and now we have a capacity to introduce one new project to do entirely in-house every year," Garnet says. Given the 18- to 22-month production flow, there are often two—sometimes three—productions happening at the same time, and this is a level GO-N is comfortably looking to maintain, he adds.
As the company has built up its production slate, Garnet says it's all about "love at first sight" when it comes to IP. Simon, for example, was based on the successful books by Stephanie Blake. "When she started to design Simon, it was a mix of something very unique, the colors and the attitude" that GO-N and Garnet fell in love with.
"There was something very instantly recognizable; it strikes you as soon as you see it." Production has started on season three of Simon, the first episodes of which will be a prime focus at MIPJunior.
The MIPJunior and MIPCOM markets will also be a time to put the spotlight on new episodes from the second season of Zip Zip. The show hails from Aurore Damant, who studied at the famed Les Gobelins school of animation. "We instantly liked her and her work," says Garnet."In her design, there's something that she calls 'retro nouveau'—a new take on vintage classics."
GO-N has made two shows with Damant, the first being Commander Clark. Of its origin, Garnet explains, "Anne had an idea and talked about it to Aurore, who drew some characters—then it was like ping-pong. After a while, we had a great show! Anne had the original idea for Zip Zip, and immediately when we think of cute and stylish animal characters, we think of Aurore."
He adds that sometimes it's the graphic design that ignites the spark or it could be the characters. And while GO-N has done a few book-to-screen adaptations, it's looking to get more into the market of major licensed brands and established IP. The company inked a deal with 9 Story Media Group to develop and co-produce a new animated series based on the TV classic Bewitched, this one targeting kids 6 to 10.
On the distribution side, GO-N has started to take on select third-party IP for representation. Through a deal with Riki Group, the company is distributing the preschool series Tina & Tony in the French-speaking world. "We are slowly opening to third-party properties," Garnet says."Mainly, either for something that is 'love at first sight' or something that we feel can fit with our sensibility and lineup."